The Autonomous Bailiwick of Channellia
Jump to navigation
Jump to search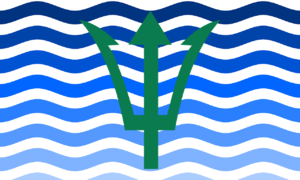 The Autonomous Bailiwick of Channellia is a self-styled independent nation located on a decommissioned Wave Weaver Mk II transportation rig[1] roughly five miles off the coast of Burnham-on-Sea in Somerset, England. The rig is owned and ruled by the Hon Sholto Chelford-Bickerton, who insists on being known as 'The Seigneur'. Despite being situated well within United Kingdom territorial waters, the ABC (as it is referred to) proclaims itself free of the jurisdiction of the mainland, although this has not yet been tested in a court of law - possibly because of rumours of a significant quantity of military ordnance rumoured to be stored on board.
The ABC is a popular venue for weekend parties and intimate getaways and offers a number of attractions, including a casino, a bungee jump off the side and what are coyly referred to as 'stag party specials'. The accommodation is spartan but comfortable and the food is unimaginative, leading to a series of indifferent reviews on TripAdvisor in recent months. There are persistent rumours that the whole thing is a front for something nefarious, although no-one has quite got to the bottom of precisely what.
Notes
↑ Many thanks to the nice PR lady from Hinckley Point who came to talk to our parish meeting and introduced us to these magnificent beasts, thus inadvertently inventing Channellia.