Admiral Akhbar's Tandoori Cantina
Jump to navigation
Jump to search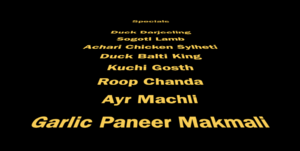 Admiral Akhbar's Tandoori Cantina is Bristol's only Star Wars-themed Indian restaurant. It is noted for its wide range of ambitious yet unevenly-executed Bangladeshi specialities, its impressive collection of low-grade Star Wars memorabilia and its quirky but almost entirely unreadable menu.
The restaurant was first set up in the the mid 1990s by Akhbar Hussain and has since become a favourite with students from the local university. It was originally named simply Akhbar's Tandoori, until Hussain happened to be watching a VHS of the 1997 special edition re-release of the original Star Wars trilogy and had something of an epiphany. From then on he became, much to his wife's dismay, an avid collector of memorabilia and the restaurant was formally re-named to coincide with the opening of The Phantom Menace in 1999. He had hoped to get local actor Dave Prowse to formally cut the ribbon, but in the end had to settle for a five-foot two impersonator who turned up drunk in his Green Cross Code man outfit because the Darth Vader suit was in the wash and tripped up over the threshold, breaking his light sabre in two as he did so.
The job of sourcing memorabilia has now passed to Akhbar's son Mo, who has moved on from his previous focus on Boba Fett-related goods and is now collecting the signatures of every actor in a non-speaking role in The Mandalorian. Mo has, however, no plans to take over the family business and is studying mathematics at Imperial College, London, although during the vacations, he still does the odd takeaway delivery for his father.
Tom Winscombe is a regular customer, and has occasionally been known to help out with their PR in return for a couple of months' free Korma. On the basis of this, he was also invited to assist with the ill-fated launch of rival Bristol entrepreneur Wasim Khan's Star Trek-themed Mulligatawny soup kitchen The Broth of Khan. Unlike his work with Admiral Akhbar's, this does not appear on Winscombe's official CV.