Yesterday I was really pleased to hear that I'd had a piece of TwitFic accepted by Thaumatrope and here it is, published on their Twitter stream today. I was particularly pleased to hear about this one, because Thaumatrope were closed to submissions when I first joined Twitter, and they've only just re-opened. It's also one of my favourite pieces of TwitFic that I've written to date. (And I got paid $1.20 for it – which is pro rate!)
So that's six of the major TwitFic markets cracked now (@escarp,@outshine, @seedpod,  @tweetthemeat, @thaumatrope and @7×20). However, at the time of writing, @nanoism and @picfic have yet to yield …
… in which Wickham has a change of plan forced on him, is now published. There are some exciting twists and revelations ahead as the story really starts to get into its stride. Perceptive readers may also discern something with a vague resemblance to a plot beginning to develop.
In other news, twitterers should also keep an eye on @thaumatrope today. Just saying, y'know?
Running around like a loon at the moment, so no time to blog about much at all except the fact that Episode Twelve, with the disturbing title "Naked and Ashamed" has now gone live. But there's something even more interesting coming up next Monday, when this blog hosts its first review and its first interview, all in the same post. Can you contain yourselves?
In the meantime, here's that Mrs Darcy episode. (Quite pleased that the stats last weekend showed a 50% increase in the audience. Now if we could achieve that every weekend, we'd really be on to something …)
Good Lord, are we up to Episode Eleven already? Not a lot to say about this one, apart from the fact that I am quite proud of the punchline, which emerged completely out of the blue when I was frantically trying to work out a way to end the episode. It's nice when that happens.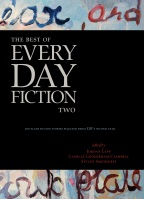 Yippee! The anthology from the second year of Every Day Fiction has now been published, including two of my stories, "Mirror, Mirror" and "Opening the Box". I'm really looking forward to reading it, as there's still something better about reading a story in a print anthology as opposed to looking at a one on a computer screen, even for a story of under 1000 words. And if you don't happen to like the one you're currently reading, there are 99 more in there. What I really like about EDF is their "anything goes as long as it's good" attitude, which means zombie stories and literary ones in the same book. What's not to like?
And the other thing that I really like about EDF is that their Managing Editor, Camille Gooderham Campbell, outed herself yesterday on the EDF forum as a fan of Mrs Darcy vs The Aliens. But then, who wouldn't?
You can order copies of "The Best of Every Day Fiction Two" here.
… is now published. This one ends on a bit of a bombshell. Sorry, ladies. Had to happen. But do keep reading – there are twists and turns a-plenty ahead.
Fans of Mrs Darcy may also be interested in Dave Weaver's somewhat abbreviated version of Pride and Prejudice, here. Whilst you're there, do take a look at his new blog and tell him I sent you.
Well, I'd completely forgotten about this one. Some time back, the highly prestigious Vestal Review put out a call for a new feature entitled Dirty Dozen. The requirement was for pieces of exactly twelve words in length with a slightly risqué theme. So I sent one, entitled "Opposites", and I found out today that it has been accepted and published. I'm rather pleased about this because I'm guessing that – it being Vestal Review – they must have got quite a few submissions. Not only that, but it will also appear in the next print edition.
However, I do have this nagging feeling that this nano stuff is all very well, but I really should be getting some longer pieces out there …
… in which Mr Wickham meets a lady of the night and makes a startling discovery about the Mission, is now published. I was very amused to see the serial described as an "RSS Dreadful" at the UK Steampunk Network. Spot on, I think. Keep spreading the word, everyone!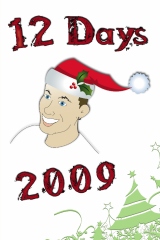 Found out today that the "12 days" project that I took part in leading up to Christmas has now made it into print. So if you fancy getting yourself a copy of all 24 stories (two for each of the 12 days of Christmas), here's the link. My contribution was "The Miracle at Hightop Farm", which was (very loosely) based on "Eight Maids A-Milking".
… in which we hear more of Charlotte Collins' predicament, is now up. Following on from a few helpful mentions in the on-line Jane Austen community (and, wow, there are a lot of Jane Austen-related sites out there – I had no idea), the marketing effort  has moved on to the wonderful world of steampunk. Last Sunday, Mrs Darcy got this nice mention in the Gatehouse Bulletin (not sure about the "Victorian" bit, but I'll certainly accept "plain weird").
And here's a piece which appears today in Flash Fiction Chronicles – quite an impressive example of shoe-horning, don't you think? Anyway, the long and the short of it is that the audience is building well, and is only just lagging behind the figure for this blog itself. I just hope that the new readers will stick around. I'd hate to think they didn't like what they saw.